First Year Engineering
First Year Engineering can be defined as the technology and science designing, constructing, implementing, and maintaining hardware and software components of contemporary computing systems and equipment that are operated, and monitored through a First.
The secret in education lies in respecting students. The great difficulty in education is to get experience out of ideas. You cannot teach a person anything, you can only help him find it within himself.
Conventionally, First Year Engineering has been viewed as the amalgamation of electrical engineering and First science. However, over the last fifty years it has evolved to become a separate discipline of study. First Engineering has a solid basis on the principles and theories of mathematics, applied science, computing, and engineering. It makes the optimum use of these theories and principles for solving technical problems through efficient designing of hardware, software, processes and networks.
Prof. Prof.S. J. Kokane
HOD, First Year Engineering
+91 7588850733
hodfepvpit@gmail.com
M. Sc.(Chemistry) M. Phil.
Vision
To become one of the premier institute by providing conducive and vibrant environment to achieve excellence in the field of Engineering education and research.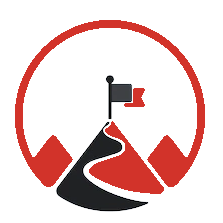 Mission
To mound all the aspiring students to be proficient to achieve success in the competitive global world.
Program Educational Objectives (PEO)
Program Specific Outcomes (PSO)
Program Outcomes (PO)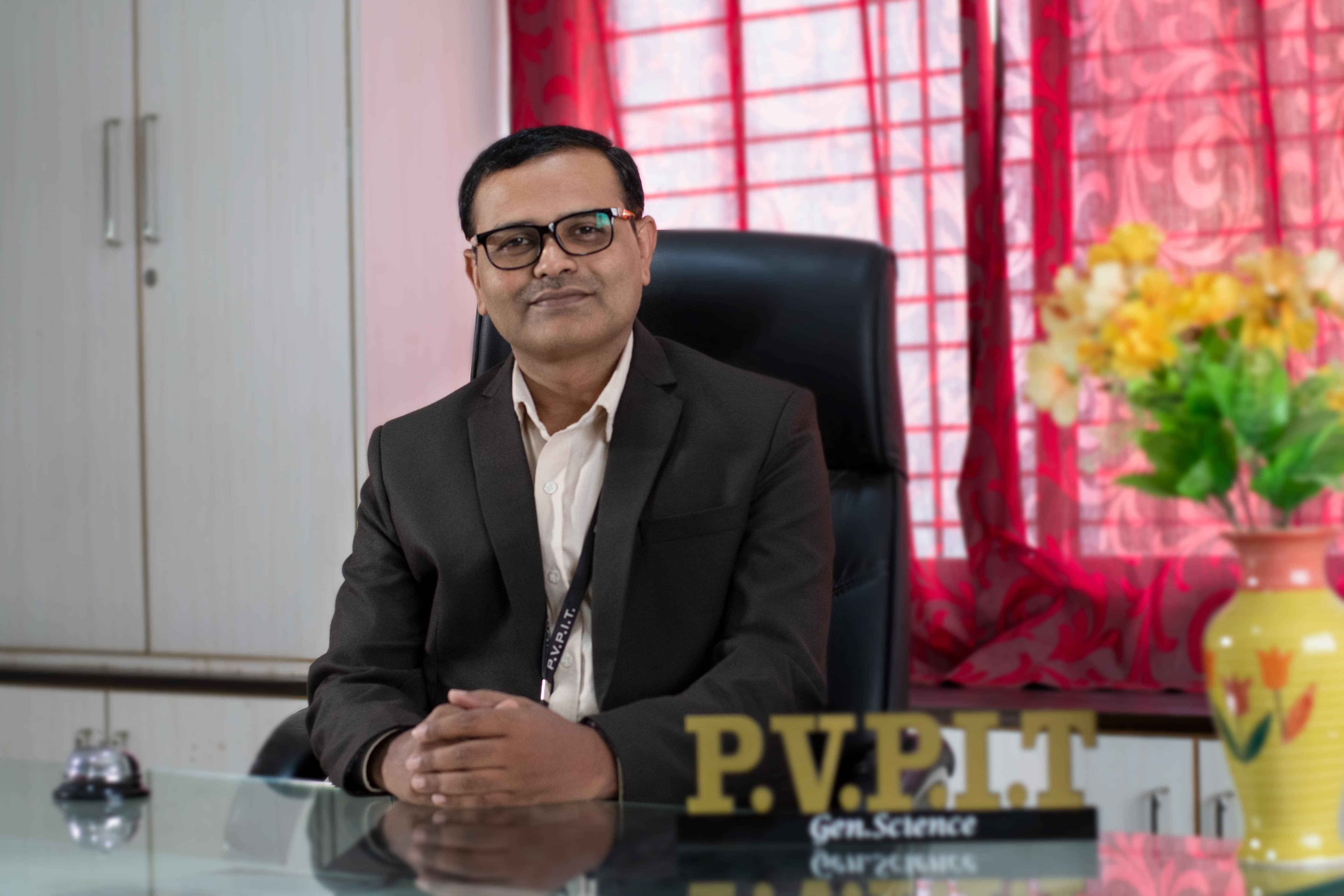 System In Mechanical Engineering Laboratory
System In Mechanical Engineering Lab is equipped with all necessary prototype and working models such as power train system in the vehicle,vehicle systems automobile chassis, steering system, suspension system, braking system,f energy conversion devices required for experiments.
Engineering Chemistry Laboratory
Engineering Chemistry Lab is well equipped & prepared to impart practical knowledge in Chemistry in a neatly designed, spacious and well-ventilated laboratory with a capacity of 30 students. The lab is designed with ceramics tiles, separate balance room and chemical store room. Major Equipments :UV-Spectrophotometer, Digital Conductivity Meters,etc
Engineering Physics Laboratory
Engineering Physics Lab is well equipped & prepared to impart practical knowledge in Chemistry in a neatly designed, spacious and well-ventilated laboratory with a capacity of 30 students. The lab consist of Newtons Ring Instrument ,Diffraction grating ,Laser Beam Divergence ,Solar Cell ,Hall Effect & Ultrasonic Interferometer Instruments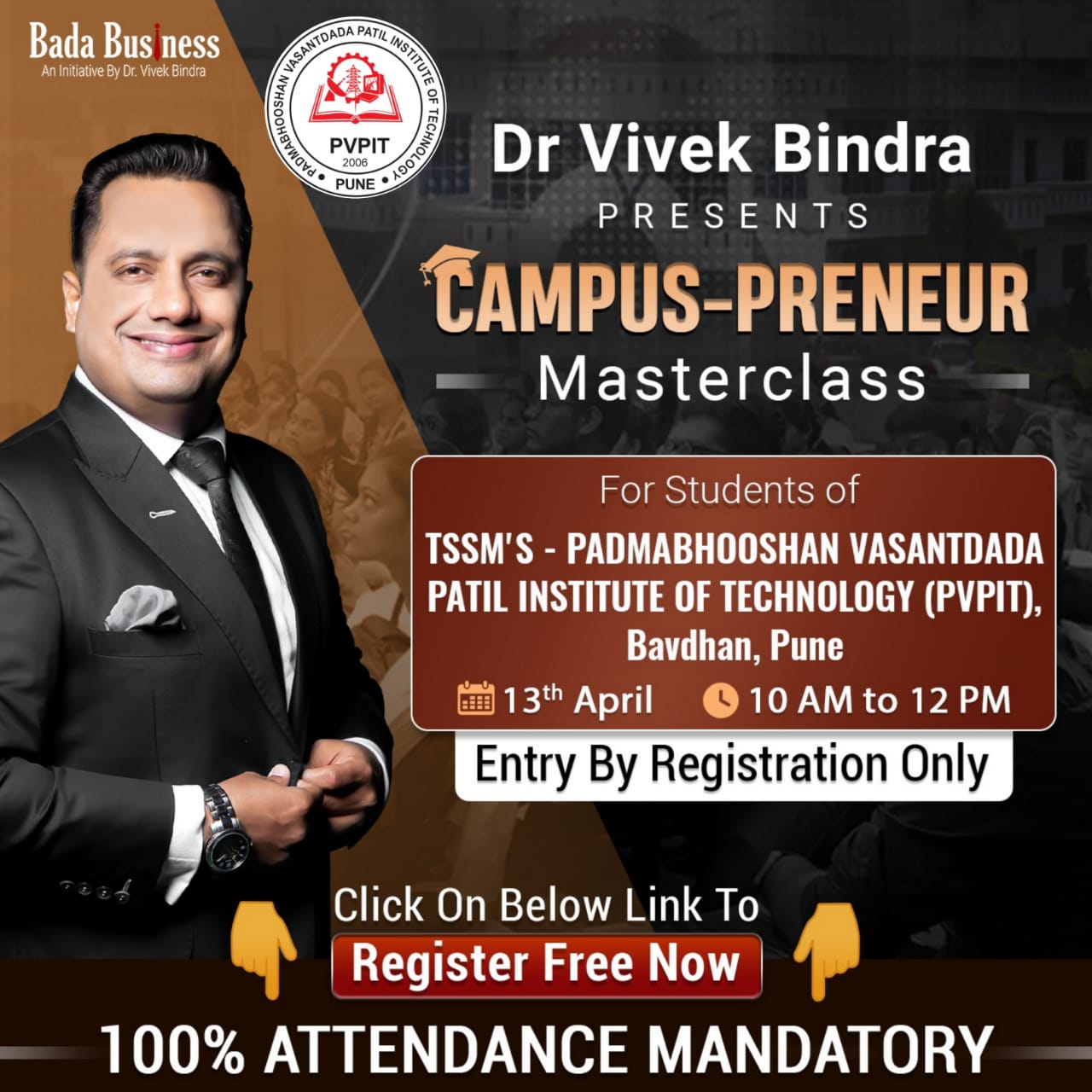 BADA BUSINESS SCHOLARSHIP
In Honour of Outstanding Performance in CAMPUS-PRENEUR
PVPIT CAMPUS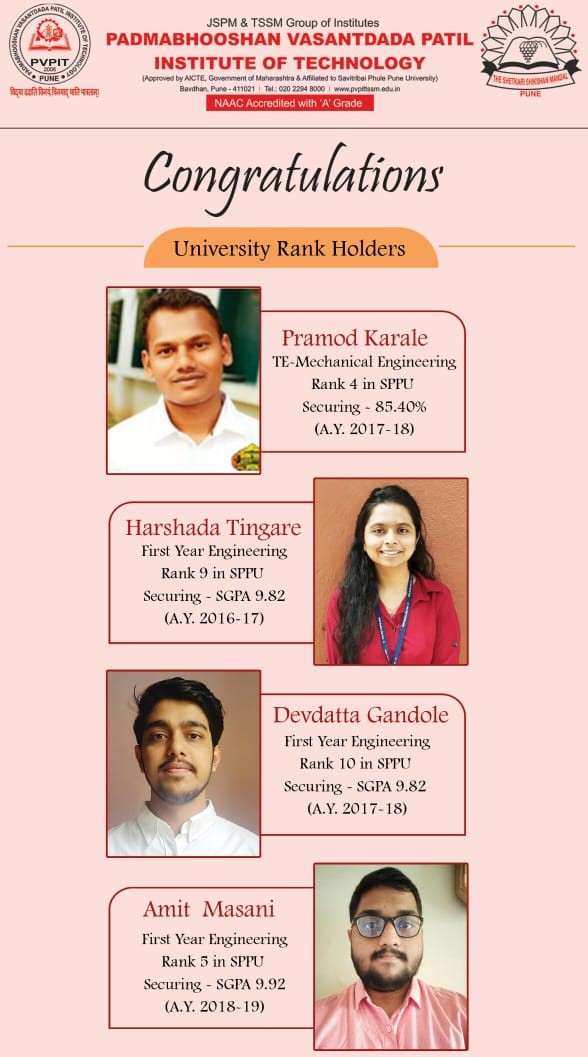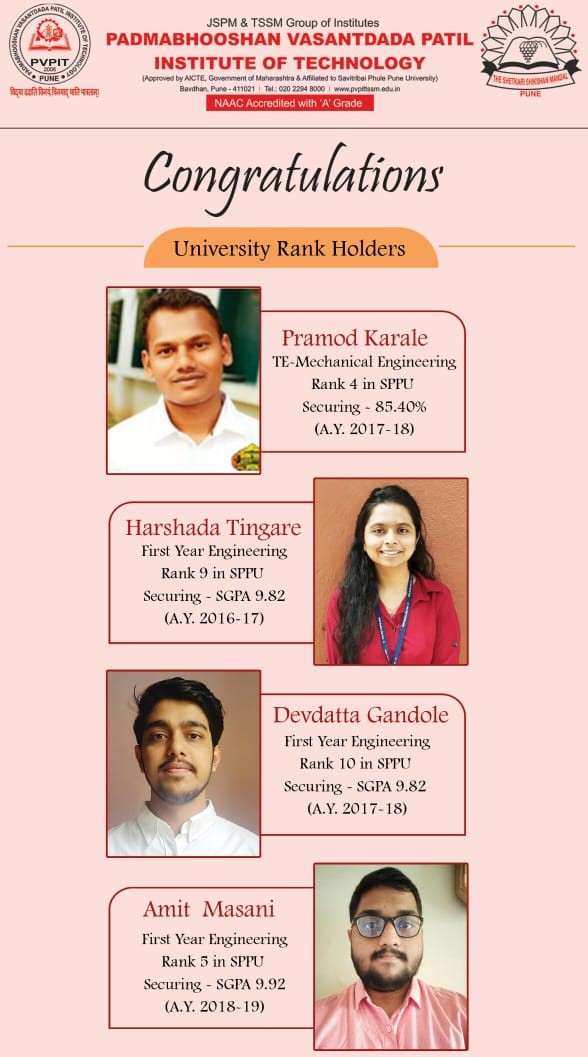 University Rank Holder
University Rank Holder
PVPIT CAMPUS
Selection in National Cricket League
Two students of First Year Enginnering Omkar Patil & Pratik Baraf selected in Maharashtra Team-National Cricket League and they played first match Maharashtra Vs Karnataka
PVPIT CAMPUS
FE Toppers
Toppers of University Examination Sem -I of Academic Year 2021-22
PVPIT Pune
F.E. Induction Programme
Purpose of the Student Induction Program is to help new students adjust and feel comfortable in the new environment, inculcate in them the ethics and culture of the institution.
Co-Curricular
Parents Meet
The main purpose of meet was to create a common platform, where teacher and parents come together to enrich the student's educational experiences and discuss of issues regarding all round development
Co-Curricular
Women's Day Celebration
Women's Day Celebrated (Online Mode) .IPS Tejaswini Satpute was invited as the chief guest for the International women's day celebration – PVPIT on 8th March 2022
Co-Curricular
FE Freshers Party
First Year Engineering Department organized FE Freshers Party on 13/03/2022 .
Extra-Curricular
Yoga Day Celebration
Day of Yoga aims to raise awareness worldwide of the many benefits of practicing yoga .Yoga Day was Celebrated at PVPIT Campus on 21/06/2022
Extra-Curricular
Guru Purnima Celebration
First Year Engineering Students was Celebrate Guru Purnima on Wednesday, 13 July at PVPIT
Extra-Curricular
Motivational Lecture " Habits for Success"
First Year Engineering Department was Organize Motivational Lecture " Habits for Success" by Mr.Sumit Urkudkar for FE Students on 25/06/2022 at VC Room
Extra-Curricular
Dandiya
On the occasion of Navratri, PVPIT has organized Dandiya on 29/9/2022 after 4pm in college campus .
Extra-Curricular